Outsourcing was the bogeyman of the '90s. Protectionists portrayed it as an evil that would take American jobs away. Yes, some jobs did go offshore as people feared, but it made the global economic pie grow bigger.
Vivek Wadhwa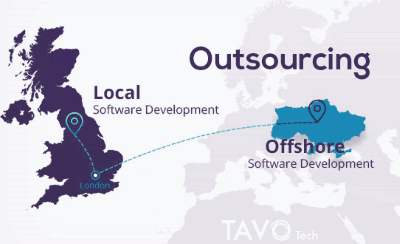 The world is changing blazingly fast, the needs and requirements of people all over the globe are growing, and the modern technologies have driven us to the peak of globalization.
Naturally, the companies are searching for new ways to bring their businesses to the next level. Trying to improve their competitive edge, most of them come to the same solution – Offshore Software Development.
Let's have a closer look at this business approach and try to identify the top reasons why companies opt for offshore software development services.
What Is Offshore Software Development?
There are 2 ways to develop custom software:
       

Onshore Software Development
       Offshore Software Development
Onshore Software Development means cooperation with software development company located in your country and very often in your local city.
Offshore Software Development means outsourcing your development needs to an agency outside of your country. In other words, you work with a remote team to develop your software.
Many people still have doubts and fears about hiring an offshore company and prefer to stick to the standard approach having an office and hiring each member of the team individually (and spending a fortune in the process) team. However, an offshore team is not inferior to the office team, in fact, it has a number of advantages, let's have a look at the main benefits of Offshore Software Development.
The Key Benefits of Offshore Software Development
Cheap Labor Costs
It is not a secret that North America and Western Europe are pricy. However, take for instance countries in South-East Asia, Eastern Europe or South America, the difference in wages is significant.  Due to the lower cost of living in such countries, developers are willing to work for two or three times lower hourly rate, making any project much more cost-effective, especially long-term developments.
Effortless Hiring Process
Finding the right people for a strong and productive team takes time and funds. As a wise entrepreneur, you definitely won't like frittering your money away on useless time-consuming recruiting practices. Instead, you may contact offshore professionals, and get the fantastic team in no time, and actually invest up to 40% -60% of the recruitment spending into your project.
No Huge Spendings On Infrastructure
Infrastructure is always one of the biggest expenses. If you have a "domestic"  type of business, investing into infrastructure is almost unavoidable: you need office space, furniture, and equipment as a minimum. However, with an offshore team, you won't face this issue.  Everything is done online, so you don't break your wallet.
No Extra Expenses On Training
When hiring an in-house team, very often you have to invest into training programs in order to enhance the professional abilities and skills of employees. With offshore services, you don't waste your time, efforts and funds on the training of your team. You automatically cut this expense, as far as the outsourcing company is the one responsible for the training.
Talents From Around The World
Offshore Software development is a door to the hub of talented minds all around the globe. If your country doesn't have enough supply of talent or lacks companies that provide the needed services, the offshore market with expert designers and developers is always open to you with many more options.
New Perspectives
Some people think that because of cultural differences, it will be quite difficult to cooperate with a remote team. However, if you look at it from the other side, working on any project with people from other countries will provide new insights and different points of view, which often proves to turn into a big advantage. Your remote team will become an engine of fresh ideas and new approaches to writing high-quality software.
Easy Management
Running a business, you know how important it is to be the first, nobody will wait for you and nobody will give you a second chance. For this reason, management is crucial for your business. When you deal with an offshore company, there will be always a person responsible for managing your remote team, tracking the speed and quality of the work, and providing you with constant reports on the progress of the development. So, you will be always aware of all the tasks your team is working on, the time frame and the expected results.
Scalability of Your Remote Team
Business never stays on the same stage. Eventually, you will have to scale your IT Department, to expand or shrink your team. With an in-house team, it can be a very complicated process. Depending on your country, firing a low-performance employee can be hard due to laws or benefits stated in the original contract. However,  when cooperating with an offshore company, you won't need to manage employee termination, you just make one call or send an email and the offshoring company adjusts to your needs and budget.
Seamless Communication
It would be a mistake to think that communication is a weak side of the offshore team. Due to modern technologies, numerous advanced platforms like Skype, Slack, Zoom, Google Hangouts, you can easily control the workflow and communicate with the whole team via chat or video call on a regular basis. Having an office and in-house team does not guarantee frictionless communication and cooperation.
24/7 Business Operation
Usually, a time-zone difference is a problem, but not in the case of offshore software development. Time-zone difference allows managing business 24/7. The workflow will be constant and uninterrupted. Such a business approach will help speed up the accomplishment of tasks, delivery of your product, and your chances to become a brand leader in your industry.
Focus On Business Goals
A remote team can eliminate the distraction and let you concentrate on core goals. For instance, you can focus on marketing, creating new strategies on how to engage your target audience, improve conversion and increase revenue, while your remote team will work on the development of your required features. This way you will manage to save time, achieve goals and rapidly grow your business.
Security and Control
You might consider a remote team to be the biggest risk for the security of the data. However, due to the modern technologies, it is easy to keep all the confidential information secure and have an absolute control over your virtual team. To prevent a leak and some fraudulent activities of hackers,  you can use a cloud-based platform like Zscaler's Cloud Security platform. Also, you can set up a corporate VPN or VDI(Virtual desktop infrastructure) for access to the remote desktops, laptops, and operating systems. One more option to enhance security level is using monitoring software that lets you check what your remote team members are working on without even notifying them. With such tech opportunities, you can cooperate with your offshore team easily and with a minimum of work-related stresses.
To Sum Up
Let's answer the main question: Does offshore software development make sense?
If you analyze all the advantages mentioned above, you will come to the conclusion that offshore outsourcing makes good business sense. It will help you reduce the costs, optimize efficiency and let your company focus on the fundamental and crucial goals. In other words, it can become your winning formula, a gateway to success and a profitable investment.
We are happy to help you with the development of your product and show by the example that offshore software development makes total sense.
TAVO Tech is one of the best software development companies, contact us and we will prove that!